Do, 07.01.2021
20-21 Uhr


BTTB - Back To The Basics

Euer Host hat vor kurzem eine Compilation mit dem Titel "Belgian New Beat" entdeckt, die so viele phantastische Tunes enthält, dass daraus nun eine ganze Sendung geworden ist. Wobei der größere Teil der Tunes gar nicht aus Belgien kommt. Und aufgrund seiner musikalischen Sozialisierung erinnern ein paar dieser Tunes euren Host vor allem an einen Mix, den er in den 80ern mal im Radio aufgenommen hat. Damals gab es im Lyzeum in Hamburg einen Acid-DJ-Contest, und einer der DJs hat New Beat mit Acid vermischt. Was nun, ca. 33 Jahr später, die heutige Sendung maßgeblich beeinflussen wird.

Tracklisting:


16 Bit - "Where Are You? (Instrumental)" (Ariola 1986)

Brazil - "Tvoj Svijet" (Dark Entries 1990)

The Actor - "Picture 210 (Demo)" (Dark Entries 1982)

Nitzer Ebb - "Let Your Body Learn" (Power Of Voice 1986)

Change - "Mutual Attraction (Nick Martinelli Version)" (Cooltempo 1985)

Modern Amusement - "Cold As Ice (Alex Jones Remix)" (No. 19 2011)

Sade - "Hang On To Your Love" (Epic 1984)

L&O - "Even Now" (Target 1988)

Reese & Santonio - "Rock To The Beat" (KMS 1988)

Chico Crew - "Acid Pages (Church Mix)" (DiKi 1988)

Westbam - "Monkey Say Monkey Do" (Doctor Beat 1988)

The Rude Boy Farley Keith - "Give Yourself To Me" (Trax 1986)

Actual Guy - "Acid Emotion (European Acid Mix)" (CNR 1989)

D.I.Y. - "U Don't Have 2 Worry" (Subway 1989)

Edwards + Armani - "Sex (Acid Sex Mix)" (MG 1988)

Paul Rutherford - "Get Real (Happy House Mix)" (4th & Broadway 1988)

Pierre's Fantasy Club - "Dream Girl (Wet Dream by Ralphi Rosario)" (Hot Mix 5 1988)

Carol + Snowy Red - "Breakdown (Snowy Red 84 Version)" (Antler 1989)
Sa, 16.01.2021
20-01 Uhr
Party

Party: WobWob! Corona-Stream #10 featuring Usus.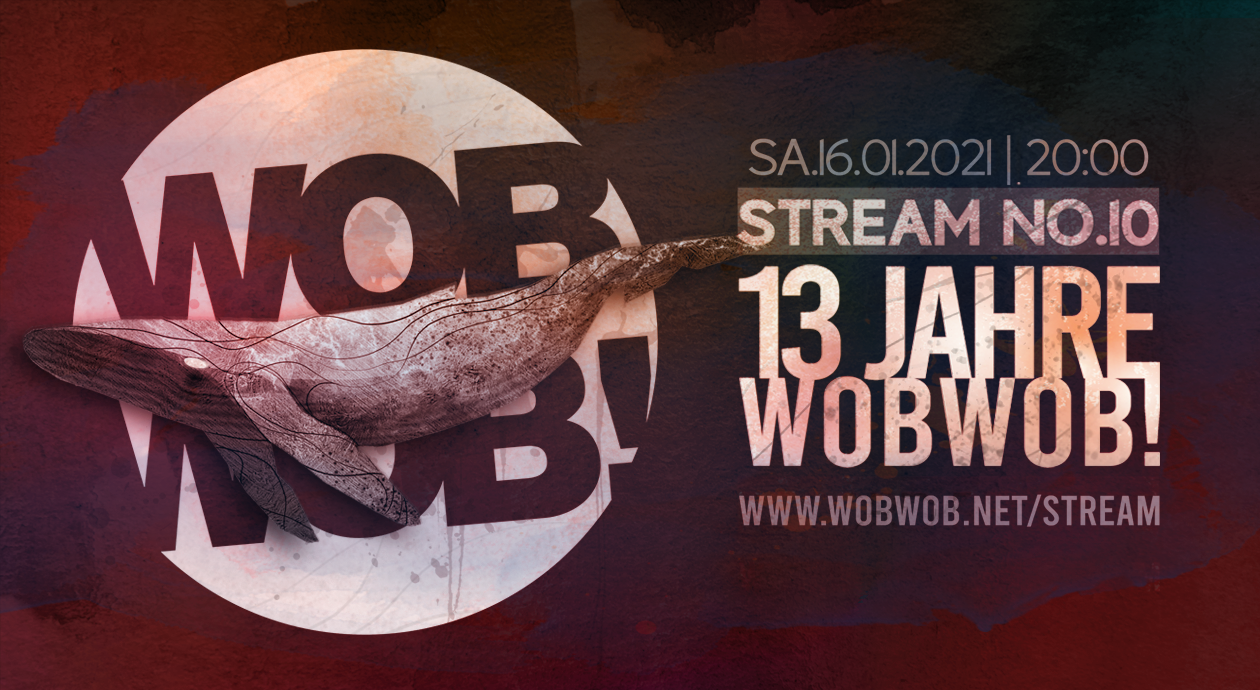 WobWob! Heute nur als Stream aber mit Gast: Usus.


Eigentlich wollten und sollten wir unseren 13ten Geburtstag schon im Dezember feiern - wegen der Verschärfung der Corona-Maßnahmen haben wir das aber ausfallen lassen. Nun ist es aber soweit, wir feiern Geburtstag mit einem distanzierten Stream. Und zur Feier des Tages gleich auch noch den Start von WobWob! Records! Auf der A-Seite der Single, die ihr unter wobwob.bandcamp.com kaufen könnt, findet ihr Musik von der Hamburgerin Kami, die hier vor ein paar Monaten schon an den Reglern stand. Die B-Seite wurden von usus produziert, der seit 2015 mehrfach bei WobWob! zu Gast war und auch Teil der 160+Bande ist. Und er ist unser heutiger Gast.

Ihr findet den Stream unter www.wobwob.net/stream .

Mit dabei ist natürlich der gesamte WobMob: Doc Bader + DJ Deneh + The Next + Der Vinylizer + Phokus + Urbano.

Support Your Local Bass!

Weitere Infos unter

www.wobwob.net