BTTB - Back To The Basics: United We Stream Hamburg - Live aus dem resonanzraum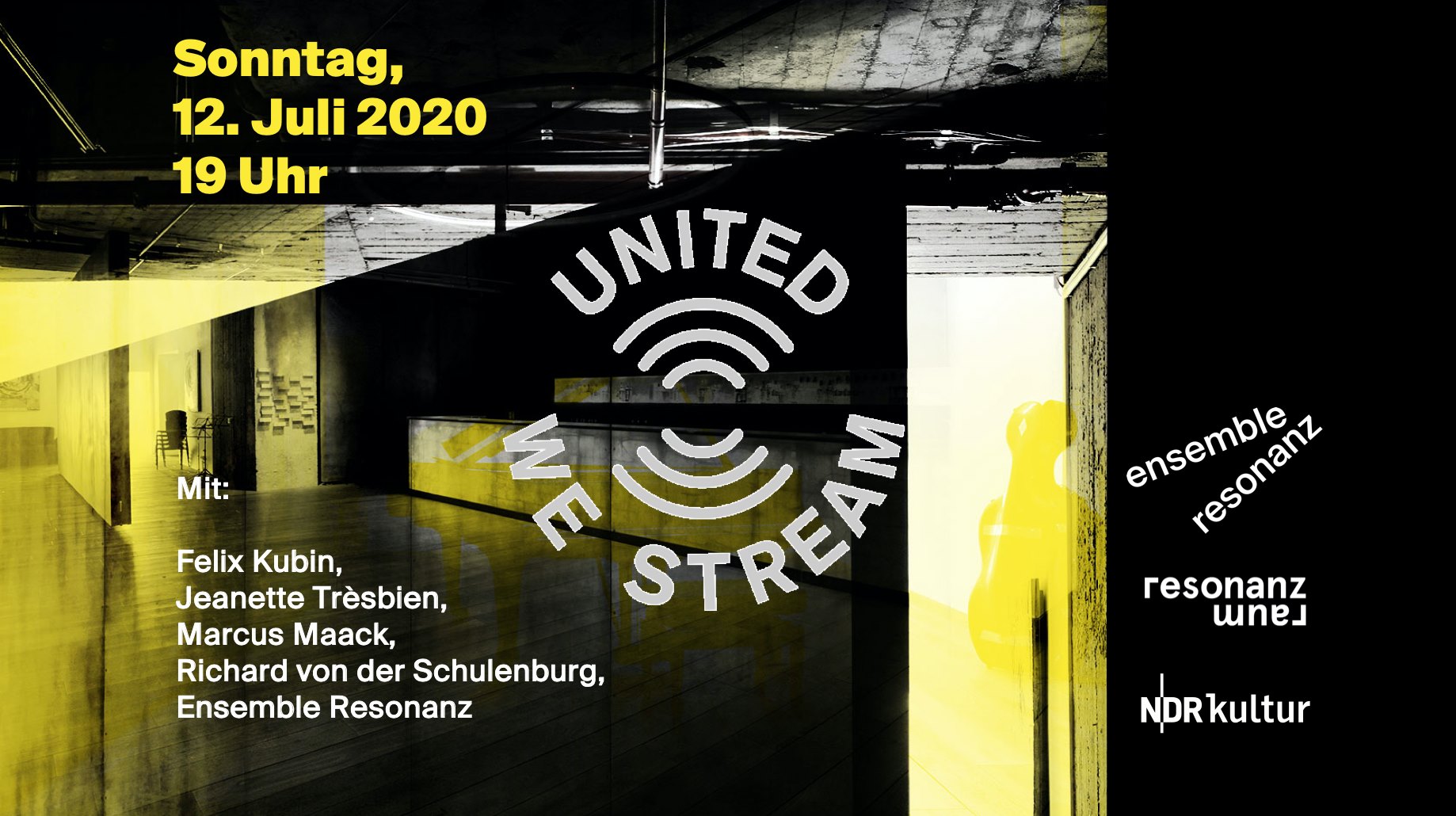 Der resonanzraum und United We Stream präsentieren ein vierstündiges Live-Set mit Felix Kubin, Jeanette Trèsbien, Marcus Maack, Richard von der Schulenburg und dem Ensemble Resonanz. Zu sehen und zu hören sind grafische Kompositionen und Serenaden, Frühlingsbotschaften und Wintervögel, Elegien, Partiten und viel Live-Elektronik von Felix Kubin, Gerhard Stäbler, Louis Andriessen, Johann Sebastian Bach, Hans Werner Henze und Heinrich Ignaz Franz Biber.
Die Hamburger Clubkultur steht vor der größten Herausforderung ihrer Geschichte. Am Freitag, dem 13. März wurde das gesamte Hamburger Nachtleben behördlich stillgelegt, um die Ausbreitung des Coronavirus zu unterbinden. Damit sind Mitarbeiter*innen, sowie Freiberufler und Kunstschaffende schlagartig ohne Beschäftigung und die vielen für Hamburg identitätsstiftenden Orte stehen vor dem Ruin.
Neben dem Unterhaltungswert hat Streaming Programm auch noch einen sehr wichtigen Zweck: Während dieser Streams können Unterstützer*innen über die Crowdfunding-Plattform Startnext einen finanziellen Betrag für Hamburger Live-Clubs spenden. Hinweis: Das Clubkombinat ist kein gemeinnütziger Verein. Es kann daher leider keine Spendenquittung ausgestellt werden.
8% der Erlöse aus dem Crowdfunding werden vom Clubkombinat an drei humanitäre Hilfsorganisationen und Initiativen weiter geleitet: Hilfsorganisation Cadus, das Hamburger Straßenmagazin Hinz & Kunzt und das Bildungsprojekt Moria Refugee School Lesbos
Hier geht's zum Facebook-Event.
Spenden Sie HIER:
www.startnext.com/save-our-sounds-hamburg
www.paypal.me/clubkombinathh
Mehr Infos unter:
www.unitedwestream.hamburg
clubkombinat.de/sos-support-now

Edit: Wer das ganze verpasst hat - keine Sorge, es ist alles auf Youtube! Mein Set startet bei 3:09:30.


Tracklisting:


Traxman - "The Robot" (Planet Mu 2012)

DJ Manny - "Computer World" (unreleased 2012)

Warlock - "Computer Madness" (Free Toons 2012)


DJ Rashad - "IIIIIII HIIIIIIII" (Ghettophiles 2011)

Modul8 - "Strange Games" (Through These Eyes 2020)

EQ Why - "4567" (Equalized 2020)

Fracture + Sam Binga - "Chessington" (Astrophonica 2020)

Kabuki - "Iceberg" (Kabuki 2020)

TMSV - "Visions" (TMSV 2020)

Soundbwoy Killah - "All Night Long" (Sneaker Social Club 2019)

Modul8 - "Acceler8ed" (Through These Eyes 2020)

Kabuki - "Albatross" (unreleased 2020)

Addison Groove - "Dreamscape 12" (Gutterfunk 2020)

FFF - "Backstreet Dub" (Foxy Jangle 2020)

RTR - "Reward (Om Unit Remix)" (Analogical Force 2020)

TMSV - "All The Yous That Have Been" (TMSV 2019)


Cadenza - "The Darkest Hype (Philip D. Kick Remix)" (Dummy 2011)

The Widdler - "Goldeneye Watch Theme (Widdler Refix)" (Free Toons 2011)

Addison Groove - "TeknoJuke" (Gutterfunk 2020)

DJ Rashad - "We're Jukin' Out" (Juke Trax Online 2008)


Alex Reece - "Pulp Fiction" (Metalheadz 1995)

Nphonix - "Fk The Pitch" (Loose Squares 2014)


DJ Rashad + DJ Manny - "Drums Please" (Hyperdub 2013)


Sully - "Rotten (Sam Binga Remix)" (Rua Sound 2016)

DJ Rashad + DJ Spinn + Taso - "Cream VIP" (Teklife 2014)

Modul8 - "2L8" (Through These Eyes 2020)

FFF - "No Ice Cream" (Foxy Jangle 2020)

Zinc - "Forest Gate Funk" (Rinse 2013)


A$AP Rocky + Skepta - "Praise The Lord (Da Shine)" (RCA 2018)

Rebound X - "Rhythm 'n' Gash (Landlord's House Coat Footwork Edit)" (Free Toons 2015)

Angel Haze - "Werkin' Girls" (True Panther 2012)


Skream - "FNKONOMIKA" (Tempa 2011)

Addison Groove - "Out Of Nowhere" (Gutterfunk 2020)


Rose Royce - "You Abandoned Me (LNTG Rework)" (Lightspeed 2011)